Ubiquiti Zero Handoff Seamless Roaming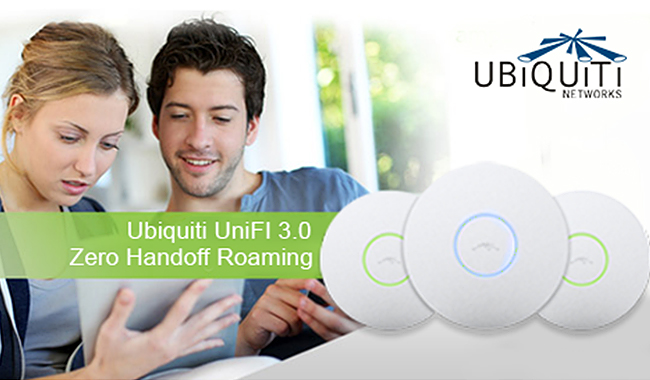 Ubiquiti Networks introduces Zero Handoff Seamless Roaming technology in the version 3.0 release of the UniFi Controller software, an intuitive user interface designed to manage UniFi Access Points (APs). Zero Handoff Roaming enables seamless roaming by wireless clients such as laptops, iPads, smartphones and other wireless devices.
Transparent to the Client
Existing roaming solutions require negotiation with the client device and may cause latency and/or interoperability problems. Standards‑based handoff requires a four‑way Wireless Protected Access (WPA) handshake, but Zero Handoff Roaming does not. Zero Handoff Roaming can work with any client and requires no special software, no drivers, and no interaction from the client device.
With Zero Handoff Roaming, multiple APs act as an AP cluster and appear as a single AP. A wireless client detects only one AP, so it seamlessly maintains its connection as it switches to the nearest AP. There is no need for the client to re‑negotiate; instead, any negotiation is offloaded to the APs. They decide which AP should take over the live connection next.
Ideal for VoIP and Video
The UniFi APs use multicasting to communicate with each other and determine which is the best AP for the client based on signal, thereby preventing any packet loss or latency. Only the AP with the best signal serves the client. This makes Zero Handoff Roaming ideal for Voice over Internet Protocol (VoIP) and video applications. Zero Handoff Roaming is also ideal for mobile clients that tend to move around or sticky clients that tend to stay connected to the same AP, even when another AP can provide a stronger signal.
Quick Configuration
In the UniFi Controller software, version 3.0, the network administrator creates a WLAN (Wireless Local Area Network) group for Zero Handoff Roaming. Then the network administrator assigns this WLAN group to a radio of each AP. After initial setup, the APs handle Zero Handoff Roaming, so it works independently of the UniFi Controller software.
https://www.lansor-it-services.com/wp-content/uploads/2014/11/New-logo-lansor-check-box-icon-300nopx.png
0
0
admin
https://www.lansor-it-services.com/wp-content/uploads/2014/11/New-logo-lansor-check-box-icon-300nopx.png
admin
2013-11-26 12:01:32
2013-12-05 01:39:36
Ubiquiti Zero Handoff Seamless Roaming